Swami Makrandnath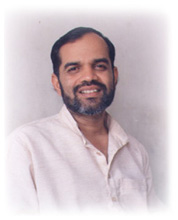 Swami MakarandNath (Shri Makarand Madhav Vaze) was born on 22 May 1957. In his childhood, Bhagvad Gita, Ram-Raksha, life stories of Great people made a great impact on his life. The lectures by Prof ShivajiRao Bhosale on Ramkrishna Paramhans, Swami Vivekanand, Yogi Arvind made big impressions on his mind. He started thinking about Self Realization and even tried various sadhana on his own. His quest for his Sadguru was increasing day by day.

In July 1976, he met Swami Madhavnath. His strong desire for Self Realization got a right environment. He was initiated by Swamiji in 1977. The qualities of spiritual understanding and leadership were recognized by Swamiji and he encouraged him to organize a group of young disciples who were also attracted by Swamiji's teachings. The young group metamorphosed into the 'Swami Madhavnath Bodh Prasarak Mandal' of which Swami Makarandanath was a founder trustee along with other disciples. After some years, Swami MadhavNath's followers from Katraj and Dhanakvadi formed a trust and named it as 'Shri Dnyaneshwari Prasarak Mandal'. Swami MakarandNath was also part of this mandal.

Swami MakarandNath seriously studied the Bhagavad Gita, Dnyaneshvari , Dasabodh , Tukaram Gatha, Upanishads, etc. and understood their gist by attending Swamiji's discourses regularly. He became deeply engrossed in meditation and recalling the name of God and attained first-hand experience of the spiritual truths expressed in them.

In 1984, Swami MakarandNath started giving Dnyaneshwari discourses. On 29 Sep 1992, Swami MadhavNath entrusted him with the responsibility of carrying forward the spiritual tradition of the Natha Sampradaya. However, he continued as a humble disciple till Swamiji was alive. On 30 Jul 1996, Swami MadhavNath laid his mortal body.

Swami MakarandNath took over the reins of Nath Sampraday, and also the responsibility of both Mandals. Swamiji started initiating disciples, giving discourses and guiding his followers on the path of Self Realization. It's a challenge to follow the foot steps of a great saint like Swami MadhavNath, But Swami MakarandNath is carrying this torch as service to his sadguru.